Before we plunge headlong intothe potential of the chatbot technology for hotels, let's summarise the technology first.
Chatbots are softwareprograms, that include Artificial Intelligence components, designed to interact with consumers over messaging apps such as SMS, Facebook Messenger, Skype,Twitter Direct Message, Slack, Kik, Telegram, and WeChat. In effect, Chatbots arelike live chat boxes you see on many consumer-facing websites, in the sensethat they're live in real-time, though just not with a live person.
With over 2.5 billion peopleusing at least one messaging app on their smartphone (source: The Economist), they are in a way the new social media. And needless to say social media is themost effective digital medium to leverage marketing initiatives.
Travellers these days look foraccessible information and instant responses to their queries, a new behavioural bar set by the advent of the messaging apps. Chatbots are primedjust to achieve that. Consider the following benefits the new technology brings along:
Enhances Overall Guest Experience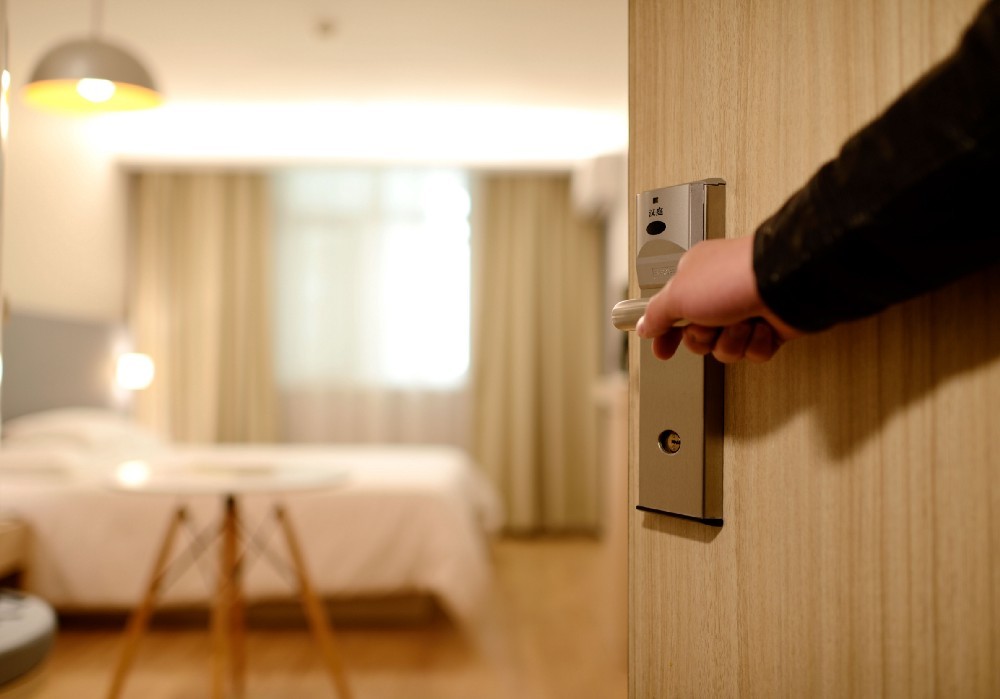 The most important criterionto estimate the popularity of a hotel is its guest experience. Comfort is the essence of hospitality — be it a luxurious room or food delight or services on beck and call. Importantly, comfort can only be experienced once the guest has checked-in. Chatbots can help hotels push the envelope by providing the comfort of an easy booking to a guest along with instant responses to their queries (in the language ofchoice), web check-in, ongoing promotions and offers, local attractions and concierge recommendations, note pre-arrival requests and help with directions. Such an experience drives a guest faster down the decision making path, thus positively impacting direct bookings.
Builds Customer Loyalty
Hotel loyalty programs may seem omnipresent today, but nearly 60% of guests still don't prioritise allegiance to a brand— implying hotels miss a key opportunity to generate repeat business and foster relationships, according to a recent OracleHospitality study. Chatbots help build customer loyalty by enhancing guest experience prior to the actual check-in, as well as on premise time and when assistance is needed post checking-out. It's an effective way of digitally nurturing the hotel-guest relationship. Since, Chatbots function as a 2-way street, a hotel can also reach out to a guest with personalised bring back offers, seek feedback and push surveys.
Generates Leads
Many conversations don't result in direct bookings, and that's part and parcel of how a consumer interacts with a brand. Chatbots are designed to be adept at generating qualified leads. Even in case of abandoned conversations they provide an opportunity to reach out to the users for a more personalised conversation. For instance, with Facebook Messenger Chatbot a user doesn't need to leave behind the contact details, the hotel can reach out by reinitiating the abandoned chat session itself. As for its close cousin, the Website Chatbot, a user can be prompted to share the contact details for a direct response from one of the staff members.
Consider an abandoned conversation for the lack of a better spa offer. Happy to Help by Klaservice conversation dashboard alerts the hotel staff in real-time to reinitiate the conversation, albeit manually this time, to convert the lead into a booking.
Cuts Slack on Manual Labor
With Chatbots, a hotel can free-up the valuable time of the staff that otherwise is spent on repetitive responses, and utilise it where needed the most — taking care of the guests. Be it on the hotel website or the social media channels, Chatbots tirelessly take-up customer queries 24×7 and handle thousands of concurrent chat sessions with each in user's preferred language.
Employing yet another cutting edge AI technology called Machine Learning, Chatbots are designed to smarten-up over time as they handle more conversations, contexts and scenarios.
Reduces Dependency on OTAs
It's no secret that hotels are working to take back bookings from online travel agencies (OTAs) such as Booking, Expedia, etc. After all, OTAs charge commissions on each booking and OTA bookings don't rely on hotel brand loyalty. In addition, OTAs control the guest information, preventing hotels from being able to advertise to guests and encourage repeat visits. While, with all their mighty marketing dollars the OTAs aren't backing down anytime soon, AirBnB has materialised in the foreground with a firm footing in the accommodation market.
Hotels are being forced to innovate to take back what's rightfully theirs. We all remember Hilton's famous 'Stop Clicking Around' campaign! New brands such as Andaz by Hyatt, Moxy by Marriott, Hilton Tru, Hotel Indigo by IHG, etc. that are aimed to please the millennials who are less interested in a cookie-cutter experience and want to discover something new, take in the city, the food, and the local scene.
As more travellers shift to messaging platforms and social media, the onus lies on hotels to move along with the tide, take advantage of new technologies and attempt to turn the corner. Chatbots are designed to maximise the potential of a hotel's guest facing digital assets — website and social media channels — to create direct conversations without forcing guests to download another mobile app. As hotels try to adapt to the ever-shifting industry dynamics new technologies such as Chatbots, Artificial Intelligence and IOT will significantly shape-up the delivery of personalised guest experiences.